California Well Sample Repository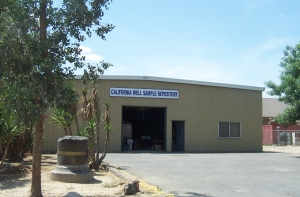 We are the only facility in California providing permanent storage and public use of cores, sidewall samples, drill cuttings, outcrop samples, microfaunal slides, foundation borings, and mineral suites. Our collection, started in 1975, is housed in two 6,000 ft2 buildings on the campus of the California State University at Bakersfield (CSUB).
Our catalog lists tens of thousands of core, cuttings, well logs, and paleontology samples that are available for view from the thousands of California oil, gas, water and core wells stored in our collection. This catalog, which is in Microsoft Excel (.XLS) format, is available for download from this website. You may also visit us in person, and you will find us on the west side of Roadrunner Drive, which is reached by entering the south gate of the CSUB campus from Camino Media Drive in Bakersfield.
| | |
| --- | --- |
| We are open: | |
| Monday: | 8:00am-2:00pm |
| Tuesday: | 7:00am-10:30pm |
| Wednesday: | 8:00am-2:00pm |
| Thursday: | 7:00am-10:30am |
| Friday: | CLOSED |
You can also email our curator, or call him at (661) 654-2324 for more information.
ADMINISTRATION

The day-to-day operation of the Repository is carried out by the curator, with volunteers and student employees. The Project Director, a member of the CSUB faculty, acts under guidelines and advice from the Advisory Committee, which supervises the facility. Grants, contracts, donations, gifts and other funds received in support of the Repository are administered by the California State University Bakersfield solely for the benefit of the Repository. The Foundation is a non-profit corporation established in 1969 to beneficially support projects and services of the State University, which are not provided through state university funding.
The Advisory Committee of the Repository establishes operating policies and procedures, and directs, advises, guides, and authorizes the general operation of the Repository. Membership on the committee has broad representation of those interested in use of the facility. Members currently include representatives from the California State University, California Division of Oil and Gas, State Lands Division, Division of Mines and Geology, Bureau of Land Management, major oil companies, independent oil companies, petroleum service companies, independent geologists and paleontologists, and engineers.

The Board of Governors

Larry Knauer, Consultant - Chairman
Dr. Anthony Rathburn, CSUB - Director
Kathleen Madden, Dean of NSME
Charles James - Repository Curator
Andrea Weikel - Office Assistant

---

Bill Bartling, Calif. DOGGR - Board Member
Mike Clark, consultant - Webmaster
Ken Frost, Senitnal Peak Resources - Board Member
Rocelle Howard, Aera Energy - Board Member
Larry Kunkel, Core Lab - Board Member
Gary Myers - PCS-SEG - Board Member
Kurt Neher, Berry Petroleum - Board Member
Sarah Spencer, Chevron - Board Member
Vaughn Thompson, Caif. Resources Corp. - Board Member
Mark Wilson, PCS-AAPG - Board Member

---

Al Almgren - Emeritus Member
John R. (Jack) Coash - Emeritus Member
Marie Covin - Emeritus Member
Del Fortner - Emeritus Member
Bob Horton - Emeritus Member
James Weddle - Emeritus Member
Jack West - Emeritus Member
---

Frank Charron, retired - past curator
Eric Hierling, retired - past curator
Larry Knauer, retired - past curator (see above)
Russ Robinson, deceased - past curator
Jack Tucker, deceased - past curator
>