California Well Sample Repository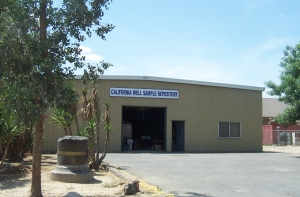 The California Well Sample Repository is California's only facility for the permanent storage and public use of cores, sidewall samples, drill cuttings, outcrop samples, microfaunal slides, foundation borings, and mineral suites. The repository, founded in 1975, consists of two buildings---each 6,000 square feet in area---that are located on the campus of California State University at Bakersfield.
On this website, you can find extensive catalogs that contain information about the thousands of oil, gas, water and core wells from California that are in our collection. There are tens of thousands of entries in our catalogs that list available core, cuttings, well logs, and paleo samples. Our files are in Microsoft Excel (.XLS) format, and they can be downloaded from this site by any interested party. Or, you can visit us at our present facility on the campus of the California State University at Bakersfield.
click here to learn about our collection
THE COLLECTION

Material in the California Well Sample Repository collection includes:
Cores, ditch samples, and sidewall samples from more than 6,000 exploration and development, oil and gas wells located throughout onshore and offshore California are in our collection. This material was donated by a large number of operators and individuals, and represents samples not only from recently drilled wells, but also from some of the earliest cored wells in the state. Whenever possible, cores are center-sliced to enhance study. Materials are placed in standard-size cardboard boxes, labeled for retrieval, and stored on steel shelving.

Ancillary data such as well histories, core descriptions, photos, analyses, and electric logs for many of the wells.

Microscope slides processed for microfauna from over 2,000 wells and outcrop localities.

Foundation boring samples, ocean bottom sediments from water quality control studies, and rock sample suites from mining districts and geothermal areas.

Most of these cores and samples would never have been made available for study by the public, and would have been discarded and destroyed by their owners were it not for the Repository. Our collection includes materials from every major oil company in California, cores from many exploration wells drilled by independents, and cores from mining and geothermal companies.
click here to view our catalog

California cores in our collection
(click the map for a larger view)

San Joaquin Valley cores in our collection
(click the map for a larger view)
this site has had


visits since 2/15/03
(5715 visits on 11/5/10)
---
| Home Page | Top of Page | Contact Us |
---
| | |
| --- | --- |
| | Copyright © 1998-2013 - Calif Well Sample Repository |